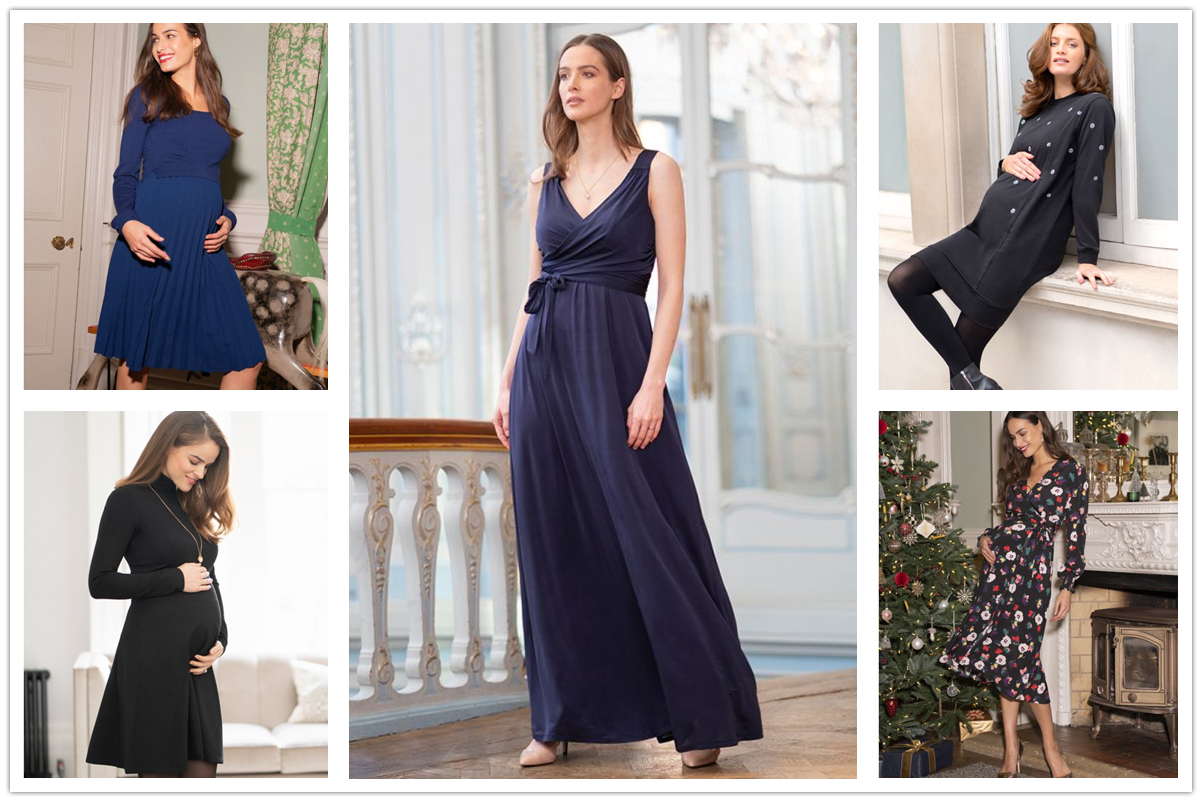 Pregnancy is one of the most important times for many women. This time brings happiness, nervousness, and most of all the anticipation of bringing a little life into the world. Among such mixed emotions, expecting mothers also dread their clothes not fitting them anymore. So, keeping that in mind, here check out the 8 maternity clothes for mothers.
1. Pleated Maternity Dress
Pleated knee-length maternity clothes are very comfortable to wear. Check out this casual yet beautiful navy blue dress that will adorn your body perfectly. You can wear it when you're with the baby bump, or when you are in the nursing stage.
2. Cotton Black Maternity Sweater Dress
A long-sleeved sweater dress is all you need to show your trendy side, even when you are breastfeeding or pregnant. It's made of a soft cotton blend, perfect to give you the comfort you want. You will also get various sizes.
3. Blue Maternity Evening Dress
You are supposed to have fun during your pregnancy, and not lounge around in your home. Go out wearing this beautiful navy dress and all eyes will be on your natural glow and effortless style. The dress is available in a claret shade.
4. Black High-neck Maternity Dress
Winter is here, it's time to flaunt your body with a high-neck and full-sleeve dress. If you are pregnant, this is your opportunity to show off your baby bump.
5. Sparkle Maternity Dress
Dinner parties aren't always for the zero sizes or slim women, but mothers have all the right to join. Flaunt your baby glow by wearing this sparkling maxi dress at any evening party and be the center of attention.
Rock your maternity clothes and wear this floral midi dress on any casual occasion. It has a full sleeve and the material is soft viscose. You will feel free to wear this floral dress.
Bring out your quirky side with this boho maternity and nursing dress. The dress has a floral print. You wear this dress easily when you are pregnant and even when you are nursing. This outfit is perfect for mothers who aren't afraid of showing off their style.
A knee-length dress with a beaded empire belt is all you need for a night out with your beau or with your friends. Made of light viscose, which will make you feel free the entire evening. You will get different sizes.
Check out these 8 maternity dresses from this article, and you might find out the perfect outfit for your maternity and nursing closet. Don't be shy to show your real beauty, and come out as the diva you are.