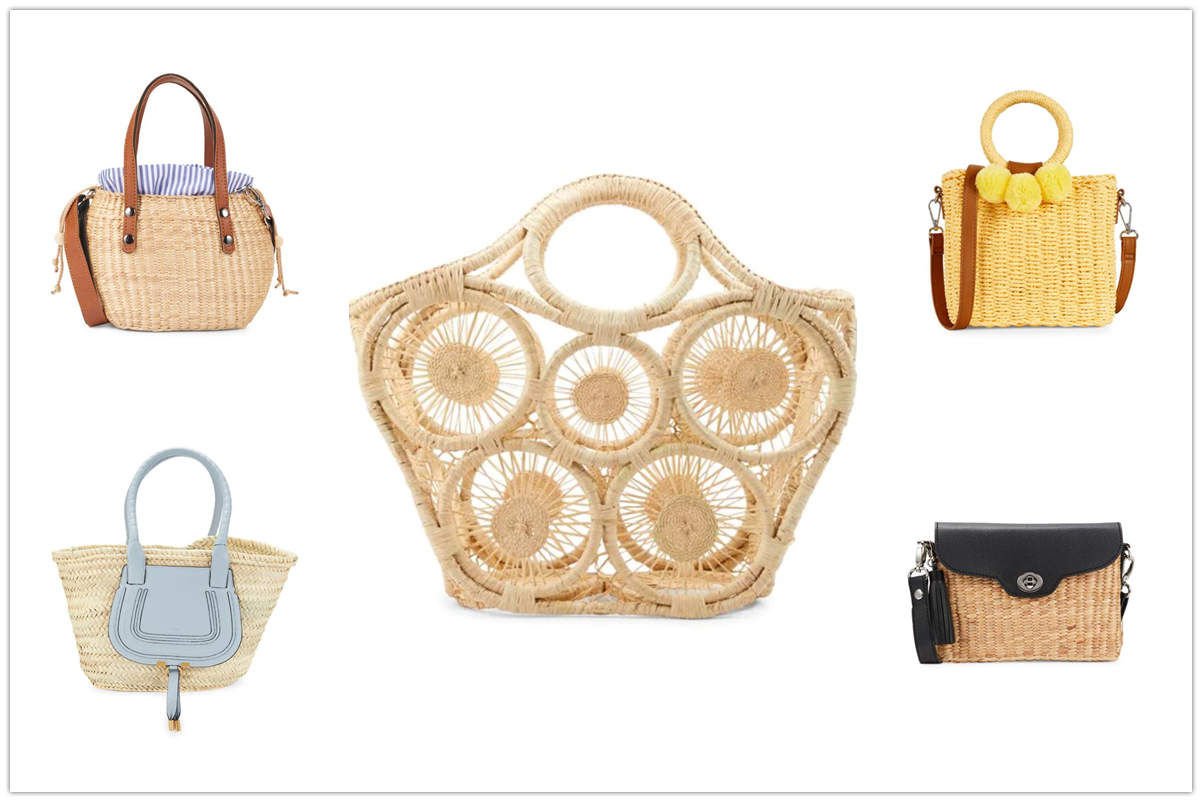 Summer's almost here, and you know what that means… it's time to pack your bags! Whether going on a sunny getaway with friends or spending the day at the beach or park, there's no reason to leave your beach and straw bags behind in favour of boring old packing cubes or your standard tote bag from the grocery store. Of course, it can be hard to choose which of these colorful, fun bags is right for you, so we did the work for you and rounded up the top eight best summer bags out there!
1. Sea & Grass Mini Woven Tote
SEA & GRASS's mini woven tote is a summer staple. The bag has an adjustable shoulder strap for hands-free carrying, as well as interior slip pockets for storing your phone, wallet, or anything else you need. A cinch closure keeps your belongings safe. It also features gunmetal-tone hardware and a seagrass fabric lining that gives it an earthy feel. You'll love how stylish this purse will look with any.
2. Fortaleza Raffia Open Woven Tote
This beauty is perfect for carrying around all your necessities while at the beach or traveling. It has a large open top that's perfect for grabbing things out quickly, which makes it easy to find what you need when you need it. Plus, even with a sunburst pattern, it's lined to protect your items and has a textile handle so you can carry it by hand.
3. Pom-Pom Woven Bucket Bag
The first thing you'll notice about this pom-pom woven bucket bag is its cute look. The yellow pom-poms add a splash of color, while the brown weaves add a touch of sophistication. A double-top handle makes it easy to carry. At the same time, the removable adjustable crossbody strap ensures that your hands are free when carrying groceries or other items that require a little extra grip.
4. Marcie Leather & Straw Tote
This Marcie tote is a beautiful combination of leather and straw. The top features goldtone hardware, and there are light-coloured straw linings on both sides, as well as around the handles. The bag is made in Spain with 100% genuine leather and natural Spanish straw lining. It also has an adjustable shoulder strap for your convenience!
5. Ella Basketweave Crossbody Bag
If you are looking for a summer bag that is both on-trend yet timeless, this beauty from Ella is your answer. The crossbody bag features a foldover with lock closure, removable tassel and inside-slip pocket, and seagrass with vegan leather flap exterior details. Available in black, this handcrafted bag will look great paired with sundresses or jeans alike!
6. Street Level Woven Tote
We love this woven tote for its versatility: use it as a beach bag, for your everyday errands, or to take on weekend getaways. It features a snap button closure, goldtone hardware, and is lined, making it easy to clean. What makes it even better? The price! $29.99
7. Hampton Striped Raffia Tote
At just 16.5 "W x 14 "H x 1.5" D, this tote is great for carrying your essentials with you. We love how it's styled with colorful stripes, making it perfect for a day at the beach. It also has a toggle closure, one inside slip pocket, and is lined.
8. Nantucket Woven Straw Tote
This Nantucket Woven Straw Tote is your everyday go-to bohemian-style bag. The woven straw is dyed for that feminine hue, perfect for an afternoon picnic, and it's sized in a structured v-shape silhouette with an open top secured by a loop closure.
While there are many beach and straw bags on the market, it is worth investing in one that is classy yet practical. Not only will you get more use out of your investment, but you'll be able to take your bag with you for years to come. Whether for a day at the beach or a trip to the Caribbean, these 8 top-quality bags make it easy for anyone to find the perfect match.