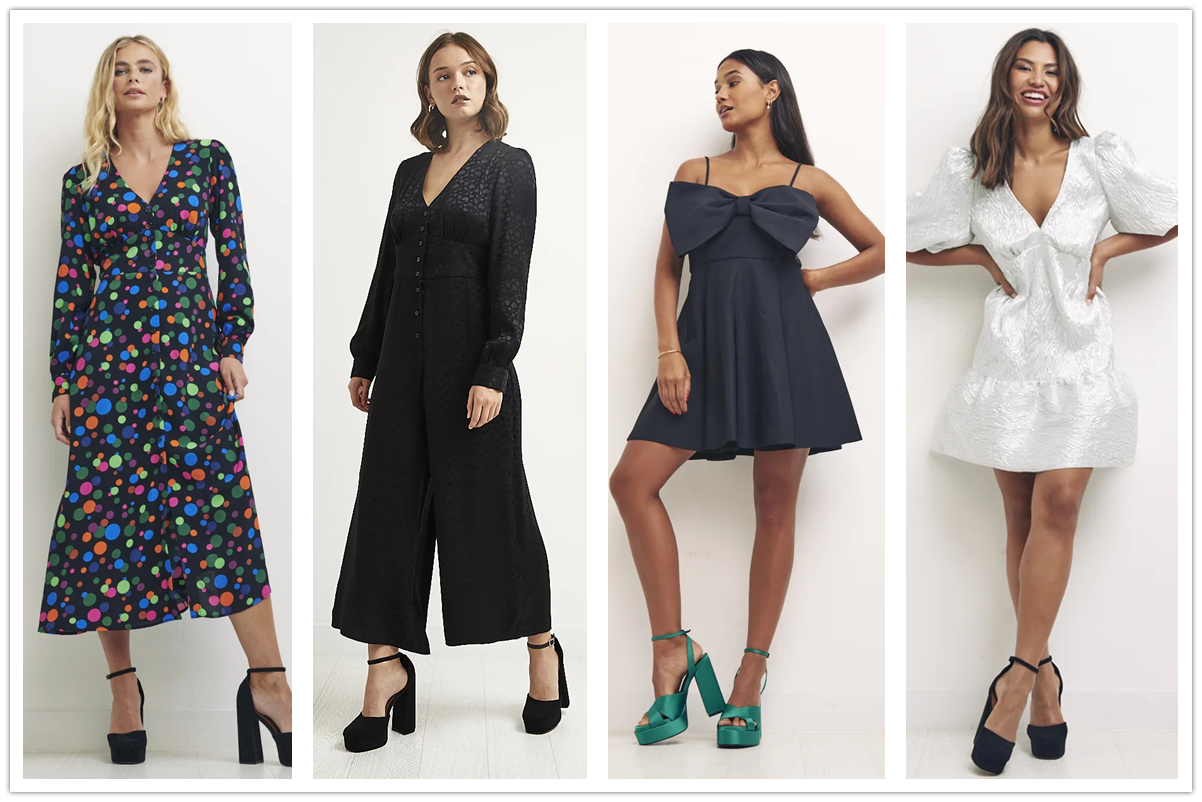 Nobody's Child is an independent, London-based brand that creates affordable fashion for the kind and spirited women.
Their collections are created by their signature in-house designed prints and elevated silhouettes. The company strives to do better by creating conscious collections that are both responsible and affordable.
Many customers are passionate about fashion, self-expression, and a considered approach toward sustainability. Nobody's Child believes that caring for yourself and the environment is the same, so they create products that empower their customers to live more sustainably.
If you are looking for a new dress, their collection of 10 dresses should be of interest to you.
1. Fearne Cotton Piper Cord Pinny
This Fearne Cotton Piper cord mini dress is made from 100% BCI cotton and features a deep v-neckline and two pockets for your everyday essentials.
Another super cute and comfortable piece that's perfect to layer over long sleeve tops, this retro style will have you looking back to the 60s. Pair with boots for a true throwback style.
So, if you like to dress for a warm day with cool undertones, the Piper mini is here for you.
The Siri Dress is a wardrobe essential. It has a demure neckline and waist but then explodes into a fun print with multicoloured spots on a black background.
Pair it with strappy heels for an energetic look, and you're ready for whatever life throws you! Now available in curve sizing, too.
3. Fearne Cotton Nellie Mini Dress
The Nellie dress by Fearne Cotton is a dream of a dress. It is crafted from a silky-soft fabric that's both stylish and comfortable.
Plus, this navy-blue mini dress's woven spotted print design and eye-catching cutout bodice will turn heads. Perfect for parties and daytime adventures alike.
4. Fearne Cotton Luna Midi Dress
Treat yourself to a glamorous midi dress in the black Luna midi dress. This vintage-inspired shape is structured through the bodice, which has shirred cuffs and frills that give it a feminine touch.
The floral print brings it all together, making it perfect for special occasions or everyday wear. It's also available in curve sizing!
Comfortable and flattering, the Siri body-skimming jumpsuit is truly divine. Cut to a body-skimming shape, this designer piece features an open back and plunging V neckline to showcase your style.
It also has a wide leg for dancing in style as you enjoy your day.
Dress to impress in the black Valerie mini dress. Play host to thin straps and a fitted bodice before continuing in a flared pleated skirt and statement bow on the chest for a showstopping style.
Pair with heels and sparkly accessories for minimal glamour.
The Zola Mini Dress is a must-have for your wardrobe, with an attention to detail that you'll appreciate repeatedly.
This dress features a flattering fit and flare silhouette with a thigh-grazing length that is perfect for any party.
From the nipped-in waist and long sleeves to the eye-catching open back secured with a bow, this versatile piece will see you through from season to season.
8. Petite Serena Long Sleeve Mini Dress
Show off your feminine side with the beautifully crafted blue petite Serena Long Sleeve Mini Dress.
Form-fitting and flattering, this fall dress is designed with a mini skirt shape and long sleeves, which will hug your figure in all the right places.
Flirty ruffles decorate the hemline and cuffs, while concealed fastening to the rear finishes the dress.
This dress can be dressed up for a night out or an everyday occasion, making it an excellent addition to any woman's wardrobe.
9. Rachel Check Midi Dress
Take the style to new heights with the Rachel check midi dress. This stylish piece is made from a lightweight checked fabric, ensuring comfortable daily wearability.
The round neck and mid-length sleeves are the perfect complements to this simple round neck design. Enjoy the freedom of movement that this loose fit provides as you enjoy your activities in this outfit.
Metallic silver, voluminous sleeves. It's all about glam vibes in this gorgeous mini dress. Featuring a tiered skirt, tie detailing to the back, and a voluminous sleeve detail.
With soft material like wearing nothing, this piece will become an instant partywear staple.
The key to getting the most out of a women's wardrobe is pieces you can wear with other items in your closet. It means looking at trends and finding timeless and classic pieces but also trendy and modern ones.
Whether you're looking for a party outfit or something to wear on a day out with friends, this list got you covered.
Our list of women's dresses is designed to suit all occasions and will help you make a fashion statement.