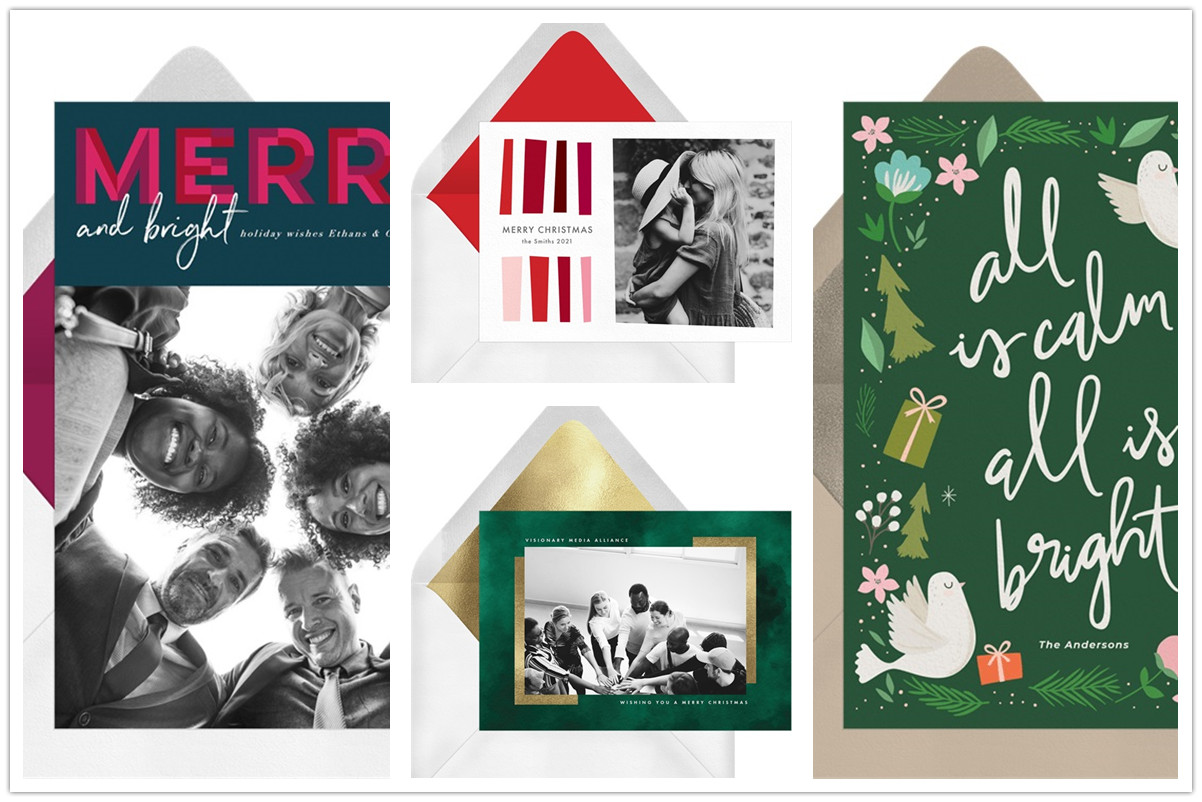 When you're sending out holiday cards, it's easy to fall back on the classic holiday traditions—you know, the classic red and green cards with pictures of snowmen and Santa Claus—but this year, we think you should try something different. To help you stand out from the crowd, we rounded up great holiday card ideas that will get your family noticed by everyone on your list—and even inspire them to send their own holiday-themed cards back to you.
The holidays are a time of celebration and giving, and this springtime-inspired design from Greenvelope celebrates the joys of spring. Metal tinsel accents give the card an industrial feel, while the bright green envelopes and jaunty green bows are cheerful additions.
When you send a design that's as modern and eye-catching as the Hip Geometric card, you're guaranteed to catch your recipients' eyes. The bold geometric pattern features different shades of green, while the metallic accents lend a sophisticated touch.
Peace on Earth is one of the most traditional holiday symbols, and this angel card from Greenvelope pays homage to the symbol with a green angel surrounded by tulips and wheat. Perfect for those who want to offer encouragement, this card is certain to make your recipient feel loved and cared for during the holiday season.
Classic and sophisticated, this mini corner card from Greenvelope features a chic gold foil border that's accented with a pattern of green corner. Simple and understated, this design will look great on anyone's desk.
If your business is looking for a holiday card design that will inspire its recipients to sit down and relax, this Calm Bright design from Greenvelope is a great choice. With a botanical theme and deep red envelopes, this card will help your clients unwind after the hustle and bustle of the holidays.
Blue is the color of tradition, but that doesn't mean it has to be dull. This patterned merry from Greenvelope will bring a bit of sophistication to your holiday greetings. Featuring bright blue, green and red patterns, this design will stand out in any office and make an impression on your business's clients.
This abstract ribbon holiday card from Greenvelope is one-of-a-kind. Featuring a unique pattern of silver and hot pink ribbons, this design is sure to make an impact on your recipients.
Forget, for one moment, the classic red and green Christmas cards you've always sent. This Snowy Forest card from Greenvelope is beautiful and original—and it makes for a great holiday card that won't seem like a traditional holiday card from the first glance.