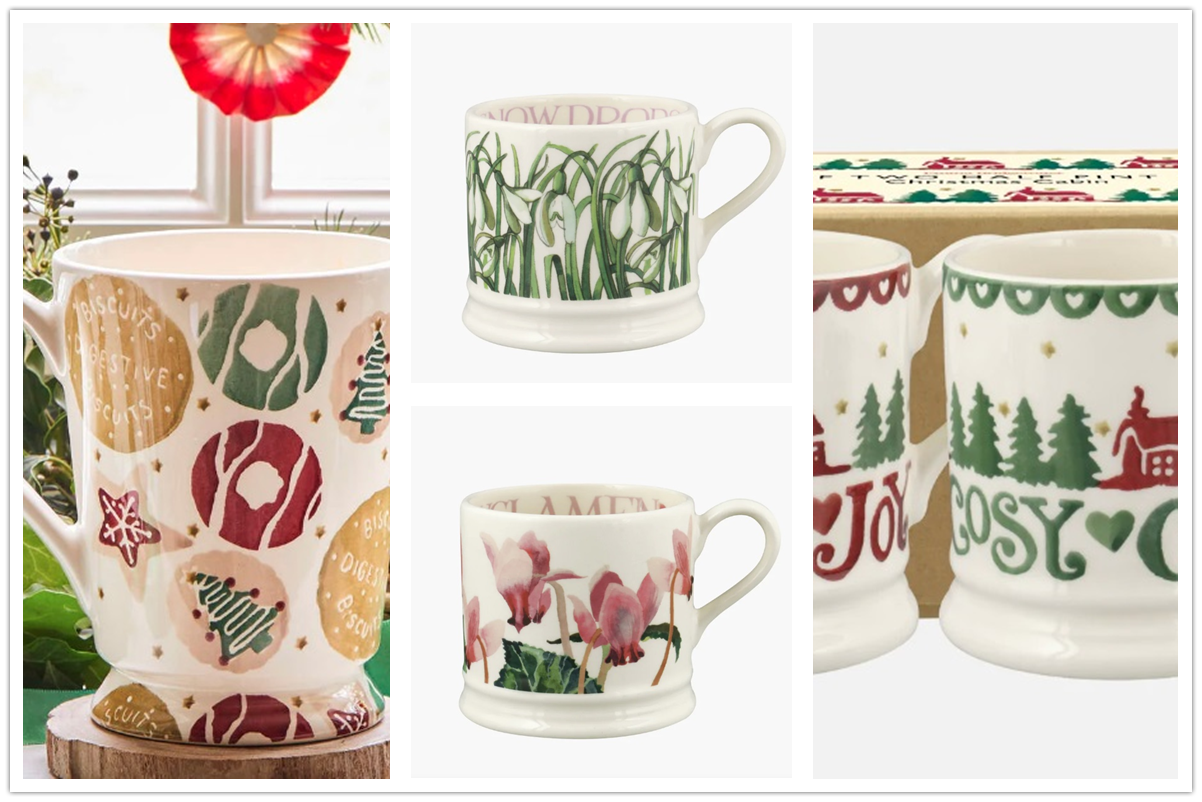 Ceramic tea and coffee mugs are really popular among drinkers, nowadays. They can be used for hot and cold beverages, they are cute, and are also, microwave-safe. What's more, they come in so many different shapes, colors, sizes, and patterns. Emma Bridgewater offers a variety of ceramic mugs for every coffee or tea lover. Let's have a closer look at some of their best pieces.
1. Personalised Hawthorn Berries Small Mug
Hand-made and hand-decorated, this unique small mug is perfect for every coffee lover. It is made in the United Kingdom and it has a capacity of 175 ml. The mug features hawthorn berries and can be fully personalized with the addition of your name or the name of the person you wish to offer the mug.
2. Christmas Puddings 1/2 Pint Mug
With a capacity of 300 ml and a cozy and festive design, this mug is perfect for the colder winter Christmas days. It is decorated with Christmas puddings and it is perfect for drinking a hot cappuccino or your favorite flavored tea.
3. Christmas Biscuits Cocoa Mug
A beautiful, cozy, and cute mug that's perfect for the Christmas period, this mug also features colorful biscuits, stars, and Christmas trees on its surface. The design and its size make this mug suitable for drinking coffee and tea, but also, for offering your little child some hot chocolate or cocoa.
4. Christmas Cabin Set 2 1/2 Pint Mugs
A perfect gift idea for the Christmas period, this set of mugs features two mugs of 175 ml each, with a winter design imprinted on their surface. A cabin in the woods and the words "joy" and "cosy" are depicted on these mugs, and the set comes in a beautiful paper box.
5. Autumn Cyclamen Small Mug
This handcrafted mug is perfect for the more romantic people wishing to enjoy their espresso while looking at some beautiful, pink cyclamens. Cyclamens are beautiful flowers that can make you feel calm once staring at them. The mug is ideal for drinking your coffee all year long.
6. Personalised Christmas Celebration Cocoa Mug
Hand-made in Stoke on Trent in the UK, this mug offers a 430 ml capacity and can be used for any type of beverage, including tea, coffee, chocolate, or cocoa. It is super-festive and has a Christmas celebration design. What's more, it can be personalized to add your name or a small message on the front.
7. Cities of Dreams London Set of 2 1/2 Pint Mugs Boxed
This set of mugs features London by day and night accordingly. You can drink your morning coffee in the bright and vivid mug of the set and your afternoon coffee or tea in the darker one. The set comes in a beautiful paper box and can be offered as a present, as well.
A unique mug that can be used all year long, this product has a drawn spruce on one side sitting on a branch of a tree. It is perfect for both adults and children and it has a capacity of 300 ml and a height of 9 cm. It is dishwasher safe, and it is made of high-quality ceramic material in the United Kingdom.
For nature lovers, this small mug can be the best addition to their collection. It is particularly great for the spring days when the gently bowing heads of the first Snowdrop blooms appear. The same exact image is depicted on the mug, making it perfect for everyone wishing to drink his espresso and feel like he is resting in a blossoming garden.