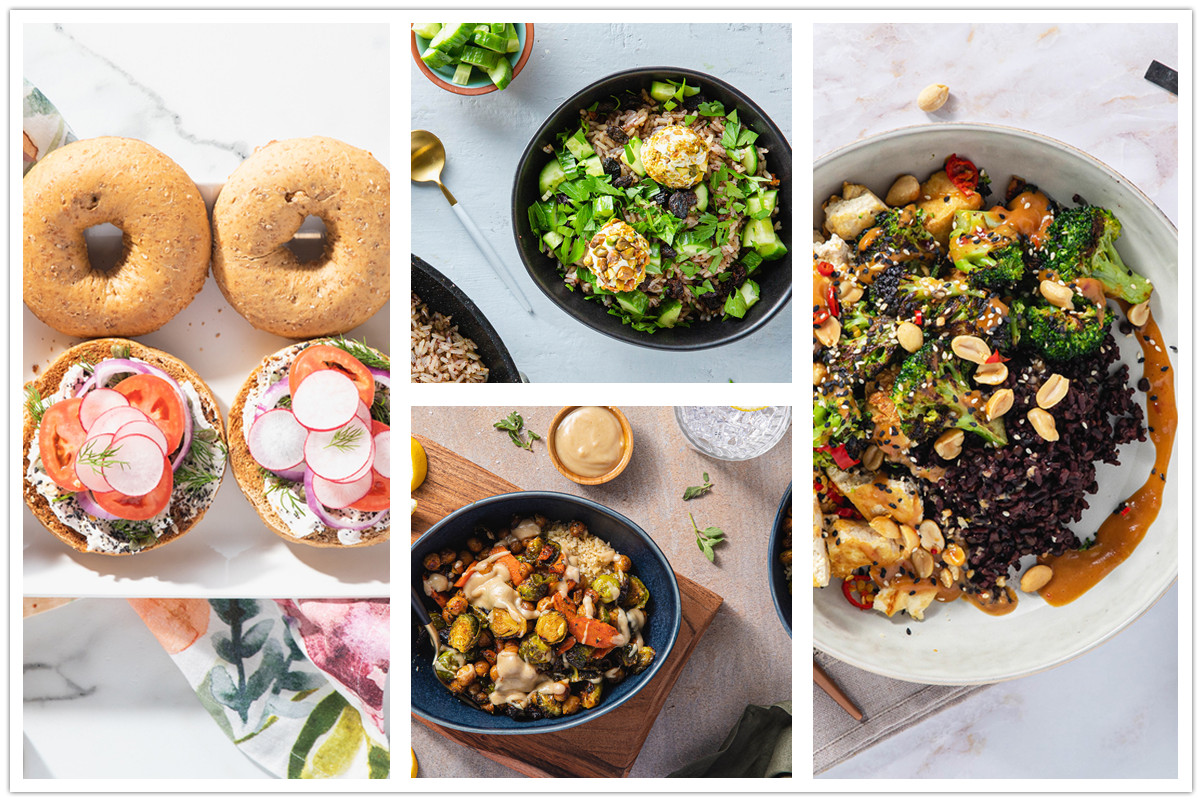 Don't have time to prepare meals yourself? If you still want to cook your favorite recipes without the hassle of ingredient prepping, handy meal kits from Purple Carrot are your best bet! Just choose your preferred meal kits from their menu, and you'll receive the recipe's corresponding ingredients prepped for quick meal preparation.
Once you receive the meal kits, simply slice, dice, and cook them as instructed. From easy breakfast to dinner recipes, here are five of the best healthy meal kits you can choose from Purple Carrot's menu below.
As everyone says, breakfast is the most important meal of the day. Even if your mornings are packed and busy, this Caper Dill Bagels meal kit menu will ensure you can still enjoy a filling breakfast—minus all the hassle involved in prepping the ingredients for this breakfast meal.
2. CRISPY SUMAC BROWN RICE BOWLS
If you want a delectable rice bowl for lunch, these Crispy Sumac Brown Rice Bowls will definitely energize you for a busy day ahead. The recipe even includes pistachios and cashew cheese, ensuring varied flavor and texture in your meal!
3. LOADED CAULIFLOWER STEAKS
Still not sure what menu option you should go for? These loaded cauliflower steaks are a guilt-free but delicious way to enjoy steaks while sticking to your strict diet. This recipe also comes with coconut bacon, allowing you to enjoy the smoky, crispy goodness of authentic bacon!
Everyone knows the struggle of preparing ingredients for stir-fried meals. That said, this Tofu Peanut Stir-Fry meal kit guarantees that you can easily make the recipe without dealing with all the chopping, dicing, and whatnot in many stir-fry recipes.
5. MANGO GLAZED BRUSSELS AND CHICKPEAS
Who says that fancy-looking dinners have to be difficult to prepare? With the Mango-Glazed Brussels and Chickpeas meal kit, you can have the perfect healthy recipe for your upcoming dinner date at home!
Cooking for yourself or your family doesn't have to be stressful. With Purple Carrot's menu of healthy and tasty meal kits, you can make cooking much easier and enjoyable! Whether you're a busy workaholic or just don't like how long cooking takes in general, these meal kits are what you need for easy-to-make recipes.